This month we spoke to the talented Chloe Durrant of Gnaw's Knits!
I am in awe of her work - her felt and glitter felt flowers look as good as the real thing!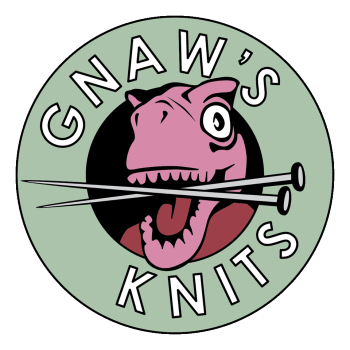 Whats the name of your handmade business and how did you come up with the name? 
The name of the business is "Gnaw's Knits". It came about after a friend sent me a small, 3D printed purple dinosaur after a family tragedy. I was using knitting as a coping mechanism, as a surprising amount of people do, but I'd run out of people to knit things for! I'd had a few enquiries about sales so I decided now was the time to launch myself away from a desk job and aim for what I wanted to do. The arrival of Gnaw, named after his creator, was such a small act of kindness that meant so very much, I decided to use him as my inspiration for the business. While the business may be focused more on felt flowers now, I think the name will have to stay! The blankets I made were donated to a canine charity and 10% of the selling price of our products is donated to The Samaritans. 

How did you get into making crafts?
I'd always knitted, crocheted and sewn as a child. My grandmother was an amazing seamstress and my mother, who is equally talented, passed down everything she had learned to me. I started making felt flowers after I got engaged, just over 2 years ago. I wanted a bouquet that would last forever, not just a day, but would still be realistic, allow me to have out of season flowers all together and, of course, have a touch of glitter! I took up knitting again to stop myself smoking. Not only did it work, but I ended up making a business out of it!

How long have you been crafting?
I used to make tables and chairs for my toys out of conkers, so I think I can safely say I've always done it in one form or another! I took it up again seriously in 2015. There is so much information available online now, that there's no excuse not to have a go at something new.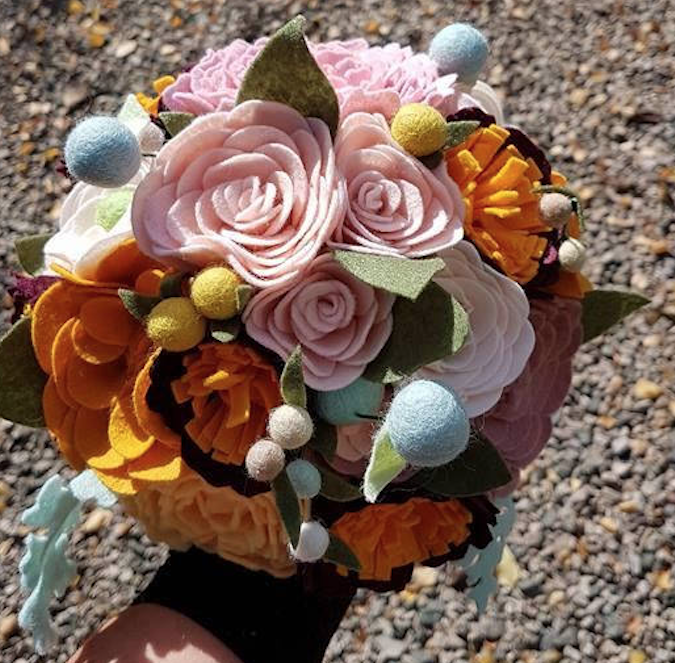 What kinds of things do you like to make?
Felt flowers are my passion. There's something very soothing and relaxing about being able to take a flat piece of felt and turn it into a fabulous creation. I love to garden, so it's given me the opportunity to study flowers and then recreate them as honestly as possible. Wedding bouquets are a favourite because I know that they're going to be loved for years to come and often have people send me pictures of how they look at home after the wedding. The thought that someone will look at my flowers and smile makes them special. I also love to knit toys, rainbow unicorns and dinosaurs are brilliant fun. 

What kinds of materials do you use?
I exclusively use Creative Craft Supplies felt, both wool blend and polyester. This means that flowers with more structure can be done in polyester but softer things like roses can be done in wool which gives them a gloriously soft and feminine look. The stems are paper covered wire which looks beautiful tied with a simple ribbon. I also love their glitter felt. If used with the glitter on the outside, flowers made from it give a beautiful pop of sparkle without being overwhelming. If used on the inside it's even more subtle and almost a secret only the bride can see. I also use the blue glitter felt to make bows for the finished article for that all important "something blue". The colour range is perfect for me with lots of subtle differences in colour which you would get naturally, plus more obvious colours like neon pinks and bright reds for those who want a less traditional or bolder bouquet. 

What new crafts do you want to try?
Wet felting. It's something that I think would tie in nicely with my flowers. I'd love to be able to make a flower but combine a few colours, say in a Lily. I'd also love to try my hand at sugar flowers, a variation on a theme I know!


What is your favourite craft tool?
My hot glue gun. We have a love hate relationship, especially when I burn myself, but I honestly couldn't do without it. It's even come in handy to "iron" a piece of crumpled felt I'd stuffed into a drawer (I know!).

What's one of your favourite things you've made?
Hmm. That's a difficult one. If I had to pick one, it would be my "Carnival" bouquet. It's something I just let my brain create, full of whimsy, glitter and butterflies with candy swirl buds and a riot of colour. If I could pick two, the other would be my rainbow T-Rex that I made for a friend's 30th. He was just adorable!


What are some of your favorite things to do in your spare time?
I live on a farm, so I ride my horses and walk the dogs with my fiancé as well as potter in the garden (apparently I've reached that age!). I also love to cook and embroider but I really enjoy tinkering with cars and the tractor and target shooting. I have a rather strange mix of hobbies!

What advice would you give to people just starting out crafting?
Stick with it. The first flowers I made were just awful! Play around with materials and types of craft until you find one that fits you. I tried a lot of different things and I think I was trying to do too much. Now I stick to the felt flowers and knitting, more the former than the latter. I tell customers that we can make anything which leaves the door open to exciting new projects, but try to find one or two things that you really excel at. Business will be slow at first, but see it through and you will start to make sales and do a happy dance around your sitting room (or is that just me?). Word of mouth is everything, and make the most of any local craft fairs. Even if you don't sell a thing, people WILL remember you. Go with your instincts. They're rarely wrong.

What inspires your designs? 
Mainly my garden but also current trends, colour combinations I may see and like. Inspiration is a strange thing. I often wake up with an idea which seems to have come from nowhere. Go with that, try it. More often than not, it'll work. Obviously my clients are a huge inspiration and we tend to bounce ideas between us until we come on the perfect combination. It's great as it keeps me from getting stuck in my own vision.

Can you tell us about your design process? 
I start with a basic palette of colours. I drive everyone crazy by walking around with a stack of felt, adding and taking away colours until I'm happy. Once I've done that, I think about the structure of the bouquet. Will it be tight with small flowers and lots of greenery, or will it be a loose, flowing bouquet with tumbling roses? Do I want it to be a traditional bouquet which looks real, or am I going for pastel unicorn dreams? (Yes, that was an alternative name for my carnival bouquet!). Once I've done that, I decide on the flowers. Big flowers like protea, cabbage roses, lilies or sunflowers make superb loose bouquets which allow you to fill in any gaps with greenery or smaller flowers. Ranunculus, succulents, lisianthus and dahlias, for example, make lovely tight, round bouquets. Then you have a mixture of the lot which can also look beautiful, as long as it's not too fussy! One of my most popular styles is just protea and lisianthus. That's all! Combined with some glitter felt bows, it looks lush, clean and elegant. I suppose what is becoming clear is that I tend to go with my gut and, bar the colours, the rest often takes care of itself. Made a stunning sunflower? Make that the focus! Of course commissions are different, but just as fun with different challenges. My number one goal is to have a happy client.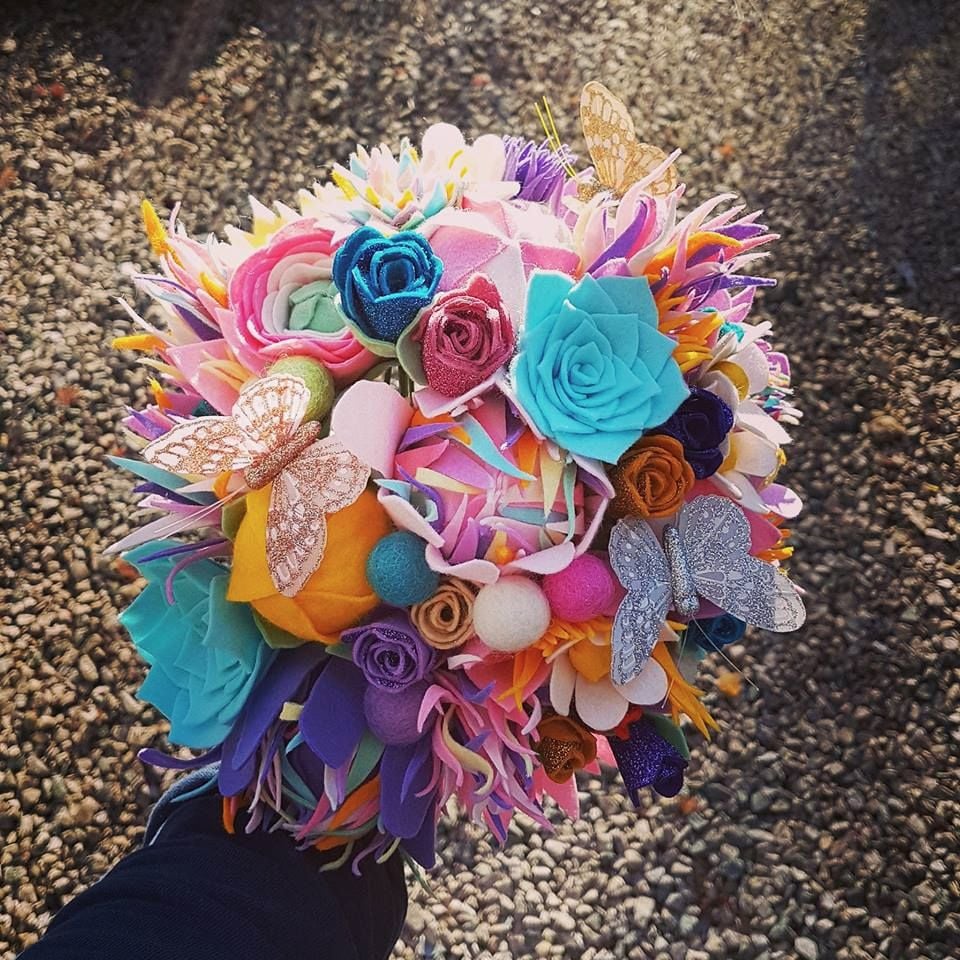 Do you have a studio space or work from home?
I'm fortunate enough to work from home. I am in the process of setting up a little studio space in the garden, amongst my beloved flowers. My fiancé bought me the most amazing antique work station. We have no idea what it was when it was new, but it has a drawer that pulls out and folds down into a kind of writing area, with little drawers and even a secret compartment. The rest is huge so perfect for storing my felt safely with no more crumpled bits. I think it's my very favourite piece of furniture in the house, and just sitting there makes me happy and inspired. 

What's ahead in 2018? 
Well, the first thing is that I'm getting married so I need to make my bouquet and centre pieces! I also have a prospect of making a lot of bouquets for a wedding in early September so that will probably keep me out of trouble for a while. I'd love to do some classes though. Hen parties where they can make unicorn hairbands or learn how to make some flowers would be so fun, especially for those who may not want the traditional hen do. I'd love to do a blog about how I make my flowers too and maybe some videos. Bigger and better is my motto this year, so watch this space!

Where can we find out more?
We're on Facebook as Gnaw's Knits https://www.facebook.com/Gnawsknits
Twitter: @GnawsKnits
Instagram: https://www.instagram.com/gnawsknits
Etsy: https://www.etsy.com/uk/shop/GnawsKnits