This month we spoke to the talented Lisa Olson of Tigerlily Makes!
We've known each other for years and recently had chance for a good chat, Lisa's designs and sewing are whimsical and magical - there is nothing this woman can't do with felt!


Whats the name of your handmade business and how did you come up with the name? 
The name of my Handmade business is Tigerlily Makes, the name arrived during a Brownie Peter Pan themed weekend that I was helping out at with my Mother In Law.  Tigerlily is one of the Characters in the story and after being called Miss Tigerlily all weekend it just seemed to fit what I was trying to achieve.
How did you get into making crafts?
I started making things at the age of 13 at school, I wasn't what you would call an academic achiever and so making things seemed such a natural thing to me.

How long have you been crafting?
I have been crafting now for approximately 35 years, it's something I have always done and it has helped me personalise and customise my home.
What kinds of things do you like to make?
I love to make all sorts of things, I have been a general arts and crafts tutor, making papercrafts, greetings cards and home décor, to my favourite medium textiles.  I love to hand sew, machine sew, embroider not only home projects but children's clothes too.  I also love to graphically design patterns for printing onto a wide variety of mediums as well as making my own felt and felt projects.
What kinds of materials do you use?
Fabric, felt, merino wool, needle fettling wool, felting needles, paper, stamps, inks, heat press materials, professional transfer decals for firing onto china, embroidery thread, cotton and so much more.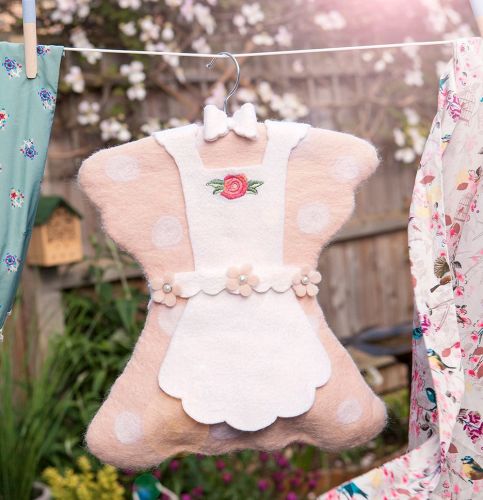 What new crafts do you want to try?
I would love to have a go at some traditional embroidery techniques such as stump work and ribbon embroidery, though I would also like to try the new iron on vinyls, velvet felt and fabric felt.
What is your favourite craft tool?
Oh goodness I have too many favourites, I love die cutting, heat pressing, sewing with my sewing machine, my hot glue gun is a must when I am fixing some of my felt project, using my felting needles and felting by hand! Oh I could go on and on.
Where do you keep your craft supplies?
I have my studio at home, custom built for creative projects and all my creative tools, though I will have to find a bigger space if I add any more tools!
What's one of your favourite things you've made?
Oh gosh well I have to say my most proudest achievement is my completing my first book with Search Press my publishers, it's called Felt Wonderland and covers lots of amazing hand felted projects, inspired by fairy tales and my passion of Alice In Wonderland.
What are some of your favorite things to do in your spare time?
First and foremost is that I love spending time with my family. I love to go to stately homes and learn about our heritage and the way life used to be lived, walking and playing hidden object games… keeps my brain exercised and it also helps me switch of from work.
What advice would you give to people just starting out crafting?
I would advise people to give it a go, research different crafts and see what grabs your attention. Get some advice on how to use the tools,  products and methods you are interested in.  Speak to other makers and designers who have some experience behind them.  Starting off small and trying different things is always a good way to see what you like and what you don't like and also where your skill set sits naturally. DIY Craft kits are also a great way to start as they contain most of the elements of what you need to get you started and give you a taster of a particular projects, process or method. Most importantly, don't give up if something doesn't work out the first time, try again and you will find that you will soon grow and develop as a maker.

What inspires your designs?
Most of my designs are inspired of classic tales of yesteryear and how we used to live.  As a child I used to get lost in the pages of stories such as Alice in Wonderland, Narnia, Dickens and The Hobbit to name but a few.  It's the characters that jumped out of those pages and sparked my imagination and really get my creativity flowing.

Can you tell us about your design process?
My design process always starts with an idea in my head, it may be sparked by something that I have read as I learn more about my favourite novels, or even down to the way an outfit has been co-ordinated with a particular colour pallet.  I have a particular passion for the 1940s in terms of the fashions and how clothes had a certain drape and sophisticated yet simple elegance.  I will then jot the idea down and sometimes do a rough sketch of how I think I want it to end up.  More recently I have acquired new computer skills in programs such as Photoshop and InDesign which give me greater flexibility in achieving better results than my rough pencil sketches and so more and more I am designing graphically on my computer, creating outline drawings with the various drawing tools available. From there I will create colour and pattern.
Do you have a studio space or work from home?
I do have a studio space at home in my garden, which is separate to my house.
What's ahead in 2018?
In 2018, I will be promoting my book Felt Wonderland, launching my new sewing kits and providing some useful YouTube videos.  I will also be exploring and discussing the possibility of book number two.  So I have some new patterns and examples to create to secure that as well as attending some big shows, such as Kirstie's Handmade Fair at Ragley Hall in May.
Where can we find out more?
www.facebook.com/tigerlilymakes
www.instagram.com/tigerlilymakes
www.twitter.com/tigerlilymakes
www.pinterest.com/tigerlilymakes
www.flckr.com/tigerlilymakes
www.youtube.com/tigerlilymakes
www.tumblr.com/tigerlilymakes
www.handmadebytigerlily.blogspot.com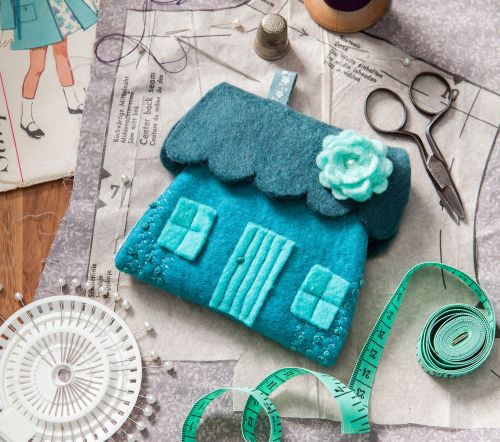 All designs copyright Lisa Marie Olson Tigerlily Makes & Lily the Lamb.
Designs are registered and protected by ACID (Anti Copying in Design)
Photography: Stacy Grant Photography