I've been a huge fan of Olivia's work and was luck enough to meet her at
The Creative Craft Show
at the NEC in 2017.
Olivia has kindly taken 5 minutes from her busy schedule to talk to us about her love of crafts.
What's the name of your handmade business and how did you come up with the name?
My business name is
Little Lapins
and I got the idea from my two girls (my little lapins) Lapins is French for Rabbit and I am half French so it made sense. I also started selling rabbit inspired products so it all seemed to fit. The logo I drew myself and I paid someone else to do the hard part and make it look professional.

How did you get into making crafts?
I have always been making things from a knitted cat I made for my mum when I was ten, to teaching Textiles for 10 years at secondary school, it is something I find that is calming and allows me to express who I am.
How long have you been crafting?
I have been crafting for 24 years
What kinds of things do you like to make?
I love to make whimsical things from felt. In the last few years I have been focusing on felt flowers and how they can be applied to products that inspire fun. I have also started to teach myself needle felting which is so much fun.


What kinds of materials do you use?

My main material is felt. I'm not a fan of craft felt that you can buy in most cheap shops as it falls apart easily which makes it difficult to manipulate and it also bobbles and looses its shape quickly.

What new crafts do you want to try?

I still want to continue with needle felting and see where that takes me and I have just bought a Pyrography kit so it will be interesting to see how I can incorporate wood and felt together.
What is your favourite craft tool?
My die cutter, as it allows me to crate beautifully cut shapes and saves me so much time, especially now I have learnt that most of my dies will cut through two layers of felt!
Where do you keep your craft supplies?
I have a workshop in my house as I work from home and it is overflowing with felt. I have now bought myself an extra bin so I can recycle the excess felt I don't use.

What's one of your favourite things you've made?
I think my favourite thing to date has to be the wreath that won me the best handmade wreath competition in 2017 on Kirstie's Handmade Christmas TV programme. It took a while to design and incorporated so many different felt techniques.
I also love my unicorn wall bust which is one of my best sellers.


What are some of your favourite things to do in your spare time?
I don't have a lot of spare time as I have two young children and my own business to run, but when I can I love to be outdoors walking in the woods with my family and my dog Lola. I find I get a lot of my best ideas on those walks.

What advice would you give to people just starting out crafting?
Don't be afraid to fail! You will not become good at something new over night, just keep practising. You can follow all the instructions in the world but remember what you makes come from within you so don't expect it to look the same as on the picture.
What inspires your designs? 
Most of my inspiration comes from my children and children's books. I love the illustrations, especially the old ones.

Can you tell us about your design process? 
Once I have an idea I tend to go straight in to making it, I like to make several versions until I am happy with the colours and shapes. Sketching first hand doesn't really work for me as everything I do is 3D. I prefer to design as I am making.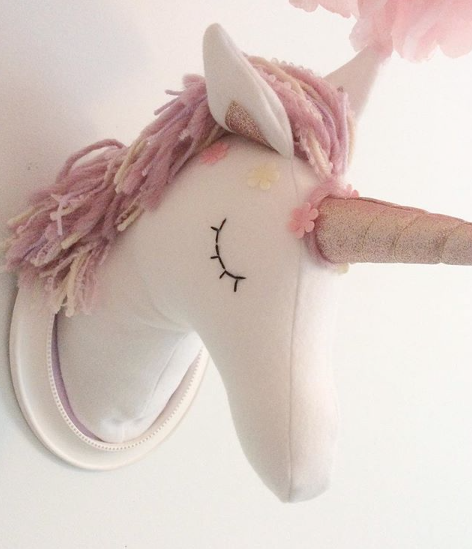 Do you have a studio space or work from home?
I work from home but have a studio space at home. It is on the top floor so I can make as much noise as I want and I get a great view of the skyline from my window.

What's ahead in 2018? 
This year I am looking at finding ways in which I can share my passion and knowledge of crafts with everyone as well as developing new products for Little Lapins and the rest is a surprise!

Where can we find out more? (Fb, IG, Twitter, website/Etsy)